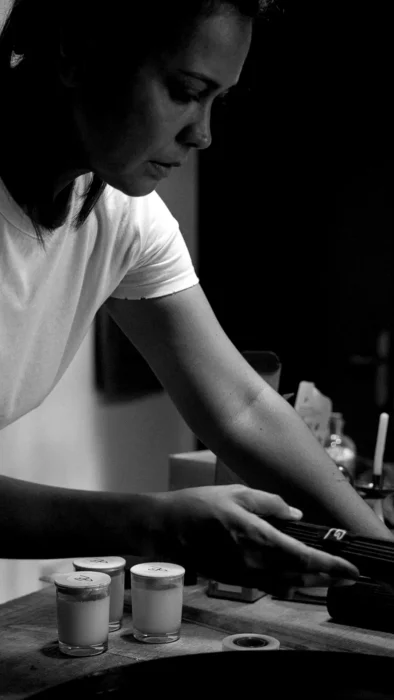 A candle is much more than a decorative element. The candles hide behind them a particular essence, a warmth and a sense of calm that few objects manage to convey.
They are perfect both to evoke and to recreate unforgettable memories, a beautiful capacity for which Velas de Ibiza has decided to bet.
Years ago, the scents, the waxes and the island itself aroused the curiosity of Denise and Antonio, which led them to become interested in the world of candles.
Thus, what one day began with that interest, has materialized in a cozy candle and accessories store-showroom located in what is undoubtedly the most emblematic neighborhood of Ibiza: La Marina.
Beauty, elegance and affection stand out in each of its corners. Spaces full of scented candles, indoors, outdoors, for events, large sizes... All of them created under the philosophy of Velas de Ibiza: that of respect for nature.
All their products are made by themselves in collaboration with different artisans who give each piece the importance it deserves. The quality of Velas de Ibiza is one of its hallmarks, as well as the use of vegetable products and recycled packaging in its production and distribution.
At Velas de Ibiza you will enjoy a multitude of aromas such as rosemary, lavender, palo santo, fig, cinnamon or cedar wood, among many others. Likewise, they have a collection inspired by the Mediterranean and the island with essences that will immediately transport you to those places. Natural and long-lasting fragrances created through artisan techniques that are extremely difficult to resist.
Decorate your home, create unique atmospheres, relax or share special moments thanks to the magic that Velas de Ibiza gives off.